Held every 2 years, the NADN Advanced Training Retreat has become established as the most anticipated event on the calendar for experienced mediators around the U.S. Over 3 days at a luxury venue, the Retreat brings together renowned industry leaders and the finest ADR trainers in the world to share their knowledge and experience.
Our 2015 Retreat was held in Denver at the brand new Four Seasons Hotel. Members were welcomed at the evening reception on Wednesday Aug 12, with 3 days of training through to Saturday. We saw 108 members in attendance from 27 states, the largest turn out to date.
Our trainers included included Academy Members Lee Jay Berman (CA), John Freud (FL), Doug Noll (CA), Antonio Piazza (Mediated Negotiations Inc.), Prof. John Lande (MO),Debbie Goldstein (Triad Consulting & Harvard Law) & Dr Leslie John (Harvard Business).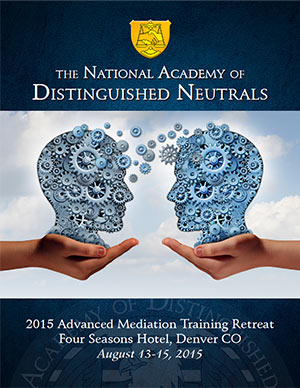 Photos from our Denver Retreat
Attendee Testimonials
"The NADN Retreat is much more than a seminar and much more than a conference. It is a unique experience of learning and growth, individually and as a group of leading neutrals. This year, as always, I discovered two dozen or more specific tips that will improve my practice next week. More importantly, though, I gain tremendous insight into ways to continue to learn and grow as a professional and a profession. In a word, "Brilliant!"
Robert Daisley, Tampa, FL
"Imagine a room full of 120 of the most experienced neutrals in the country, who are only in the group because they were invited, engaged in 2.5 days of lively, funny and heartfelt tips, tricks and best practices. NADN meetings are unique - it's a privelege and a pleasure to attend."
Will Pryor, Dallas, TX
"This is a program that brings together a cadre of highly experienced dispute resolution professsionals who are encouraged to think out-of-the-box, try new techniques and exchange ideas in a dynamic and supportive environment. An excellent event."
David Lichter, Aventura, FL
"Phenomenal. This seminar absolutely blows all other ADR seminars away. The caliber of the speakers, the relevancy of the topics, and the exceptional experience of the participants raises the level of training to a class by itself. Worth every penny!"
Kim Torres, Tampa, FL
"Excellent synthesis of skills, process and creative thinking about the business of conflict resolution and problem solving. I'm taking home Lots of ideas & inspiration to enhance my mediation practice!"
Krista Gottlieb, Buffalo, NY
"Superb! We had speakers discussing psychology, communications (the use of feedback), mediation techniques, pre-mediation ideas, and strategies in unusual and large cases, and the use of an opening joint session, and so much more. This is without doubt the best ADR course I have ever attended."
Frank Hamlin, Little Rock, AR
"When you combine the wisdom and insight from leaders in the field of ADR as speakers, with the experience and willingness to share from the attendees, you create an environment to advance the art and science of a field that is changing the way the public look at the law. Great event, thank you!"
Stephen Garner, Bremen, GA
"A fabulous program with great speakers, and excellent facilities. Great materials - I'll certainly be there in 2017!"
Charles Muchmore, Phoenix, AZ
"The total experience of speakers and audience comments helped me to broaden my knowledge to certainly improve my mediation skills. Flexibility was emphasised in the process, as well as expanding our services as we go forward."
William Francis, Lexington, KY
"A great three days with the best teachers and practitioners of mediation who share my passion for the process!"
Kenneth Byrum, Bakersfield, CA
"I am continually impressed with the effort and quality of NADN membership and the Training Retreat. By far and without reservation the biennial Retreat is the best and most useful CLE I receive."
Hon. John Nahra, Bettendorf, IA
"Interesting, thought-provoking program with a roomful of attendees, many of whom could also take to the podium and present an informative program of their own! A very rich education experience, quite excellent."
Beth Krugler, Fort Worth, TX
"After 40 years of attending legal conferences, seminars and training retreats, I can honestly say this is the best."
Hon. Cleveland Gambill, Lexington, KY
"Some really great out-of-the-box discussions and presentations. The Retreat offers an excellent opportunity to learn from, and get to know, those at the top of their craft."
Skip Netzorg, Denver, CO
"Some One of the best workshops I've attended in 38 years. Intriguing, refreshing, challenging and informative to me as a neutral - I think this will make me a better peacemaker. Glad that I could stay for the practical marketing discussions on the Saturday, too!"
Jeff Boehlert, Des Moines, IA
"Darren and NADN continue to exceed my high expectations. 2015 was a fabulous conference - engaging speakers and thought-provoking topics. I look forward to attending the 2017 Retreat!"
Kelly Overstreet Johnson, Tallahassee, FL
"The combination of outstanding presenters and very experienced participants makes this the best mediation seminar available anywhere. First class event."
Robin Doyle, Naples, FL
"The NADN Retreat is - bar none - the best, most sophisticated and content-rich ADR program in the USA."
Joaquin Fraxedas, Maitland, FL
"The Retreat was an absolute 'Wow!' - the hotel, the room setting, the service, food, and refreshments were outstanding in every respect. Just excellent. I enjoyed Professor Subramanian - he operates at a sophisticated level, and offers the crowd perspective in advanced negotiations training for executives. Lee Jay Berman was the star of the show A+. I had never seen him in action before, but he's just wonderful. I'm kind of burned out after 25 years of these programs; however, Lee Jay effectively rejuvenated the old boy. I've had two cases this week, and have been scanning my 'Lee Jay' notes on breaks for ideas!"
Hon. John Upchurch, Orlando, FL
"I attend a number of conferences most years: ACCTM, IAM, JAMS' Owners, JAMS mediation training, JAMS arbitration training, Georgia Bar's ADR Institute, and Georgia Bar's Arbitration Institute, as well as several one day programs on ADR, mediation or arbitration. Your NADN conference was one of the very best. I particularly enjoyed the way Lee Jay Berman used the vast experience of the group to allow the attendees to learn from one another, formally and informally. Highly recommended."
Terrence Lee Croft, Atlanta, GA