Held every 2 years, the NADN Advanced Training Retreat has become established as the most anticipated event on the calendar for experienced mediators around the U.S. Over 3 days at a luxury venue, the Retreat brings together renowned industry leaders and the finest ADR trainers in the world to share their knowledge and experience.
Our 2013 Retreat was held in Boston at the beautiful Boston Harbor Hotel. Members and guests were welcomed at the evening reception on Aug 12, with 3 days of training through to Saturday. We saw 90 members in attendance, with a majority of members bringing along partners/spouses to enjoy the social events for the first time.
Our speakers included Lee Jay Berman (American Institute of Mediation), Prof. Guhan Subramanian (Harvard Law, Program on Negotiation), Andy Little (author of "Making Money Talk"), Lela Porter Love (co-editor of "Stories Mediators Tell") Don Philbin (TX) and John Salmon (FL).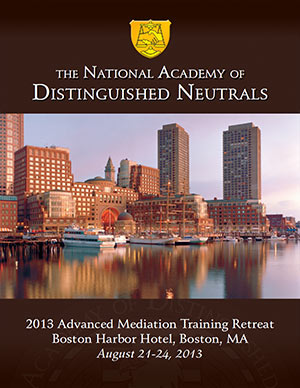 Photos from our Boston Retreat
Attendee Testimonials
"The Retreat was an absolute 'Wow!' - the hotel, the room setting, the service, food, and refreshments were outstanding in every respect. Just excellent. I enjoyed Professor Subramanian - he operates at a sophisticated level, and offers the crowd perspective in advanced negotiations training for executives. Lee Jay Berman was the star of the show A+. I had never seen him in action before, but he's just wonderful. I'm kind of burned out after 25 years of these programs; however, Lee Jay effectively rejuvenated the old boy. I've had two cases this week, and have been scanning my 'Lee Jay' notes on breaks for ideas!"
Hon. John Upchurch, Orlando, FL
"I attend a number of conferences most years: ACCTM, IAM, JAMS' Owners, JAMS mediation training, JAMS arbitration training, Georgia Bar's ADR Institute, and Georgia Bar's Arbitration Institute, as well as several one day programs on ADR, mediation or arbitration. Your N.A.D.N. conference was one of the very best. I particularly enjoyed the way Lee Jay Berman used the vast experience of the group to allow the attendees to learn from one another, formally and informally. Highly recommended."
Terrence Lee Croft, Atlanta, GA
"Congratulations on presenting one of the most valuable ADR Conferences I have attended in my 30+ years as an ADR professional."
Jerome Landau, Scottsdale, AZ
"Great learning opportunity. Your teacher is not only facilitating the lecture but is your neighbor at the table. Thanks for your efforts in organizing this, it really paid off!"
David M. Zacks, Atlanta, GA
"The NADN Retreat is more then just the best seminar program I've attended in the 30 years since I took the Bar. It is a genuinely priceless experience in the professional development and growth. I just returned from my third mediation since attending the program and, not surprisingly, have settled all three cases - one tough one directly as a result of what I learned from one of the workshops. I have a very challenging mediation set for this month and I cannot wait to put into practice what I learned. Everyone who attended substantially improved his/her mediation ability, and corresponding fulfillment from this most honorable profession to which we've been called."
Robert Daisley, Tampa, FL
"The NADN Retreat is really a unique opportunity for experienced mediators to share ideas and acquire invaluable tools.."
Brian Spector, Miami, FL
"I have attended all of the NADN Retreat programs - and have yet to attend any other program of its type that comes close. The quality of the speakers and material meaningful and useful enough to an experienced third party neutral has always been truly exceptional."
Ted Deckert, West Palm Beach, FL
"Nuanced, experience-tested advoce and some actual science from top academics and professionals, delivered to an audience with vast accumulated experience in mediation from throughout the country. Not the usual Do-Re-Mi of mediation seminars! Highly recommended."
Jonathan Koch, Tampa, FL
"Darren and Rose-Anne have continued to make NADN a premier legal organization - excellent programs and speakers from around the country. I will continue to attend these very informative, enjoyable conferences."
Kelly Overstreet Johnson, Tallahassee, FL
"To gather with skilled and knowledgeable trainers and be surrounded by a room full of experienced and wise mediators, exchanging ideas and debating various techniques and methodology, allows participants to gain great insight into a great variety of good, practical ideas for improving ones mediation tools..."
David Noblit, Chattanooga, TN
"I have been mediating since 1986 and also have been very involved in training ADR professionals in the Midwest over these years. The program presented at the 2013 NADN conference was one of the best that I have attended. Lee Jay Berman and the other presenters gave me a notebook full of new ideas to improve my mediation skills! The NADN is where the top ADR professionals go for advanced training. I will definitely attend in 2015!"
Michael P. Bishop, Indianapolis, IN
"A great Retreat in all regards and a truly excellent group. Thanks for making it all happen."
Justice James Gilbert, Eden Prairie, MN
"Thank you for a wonderful, informative and thoroughly enjoyable conference. Everything about it was fantastic! The lessons I learned will be of great use to me in my ADR practice."
Hon. Benhamin Cohen, Somerset, NJ
"Absolutely Fabulous! The content was relevant and the presentations were all very engaging."
Hon. John Nahra, Bettendorf, IA
"The whole program and courses were 1st Class. Thanks for the hard work you obviously put into this.."
Mel Wolovits, Dallas, TX
"This was my second NADN Retreat. Having attended (and planned) more than 50 conferences in the past 20 years - your 2 stand out as the best. I started using things that I had learned at the very first mediation upon my return to the work I love. Congratulation - and see you in 2015!"
John Salmon, Miami, FL
"The Retreat was outstanding. Very strong presentations and kudos for getting Prof. Subramanian to speak!"
James Spink, Burlington, VT